The higly anticipated 2014 edition of the Le Mans 24 Hours proved to be a killer one -even before the race started - with the new, Group C-like regulations and two, very much able teams running for Audi's throne. Here are the 24 words that describe the weekend, in alphabetical order.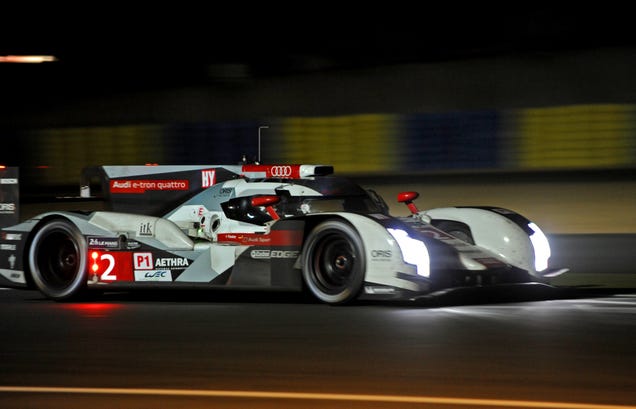 Announcement- Before each event starts, there are a number of announcements made by various present and future contenders, trying catch the wind the media attention is making. A few weeks before the race Nissan announced their LMP1 WEC entry for 2015. Lotus finally unveiled their car after many had believed the project being dead and the Perrinn myTeam project is making progress as well, eyeing 2015.
Have you heard that Nissan is returning to #LMP1 in 2015 with the #GTR LM #NISMO? Time for a trip down memory lane... pic.twitter.com/GhpsusV9YC

— NissanUK (@NissanUK) May 27, 2014
Chicane - The Ford Chicane received new, "sausage" or "baguette" kerbs for 2014 that slightly slowed cars down rushing to the finish line. In the past it was common practice to rush through the curve-combination flat out the kerbs stopped that.
New Ford chicane kerbs, don't want to hit these bad boys!! @LM24 @FOXSports1 pic.twitter.com/cEg3GPVeBl

— Calvin Fish (@calvinfish) June 10, 2014
Conservative - Audi's choice of design along the 2014 regulations was a conservative one, as they put all their faith in their reliable Diesel technolgy rather than hybrid backing and went for the smallest capacity of hybrid system available by the rules, although not being the most advantageous one as far as speed is concerned. But the race lasts 24 hours, they know it well.
Get ready this weekend for an exciting race between Audi, Porsche, and Toyota in the LMP1 class. @24hoursofleman... pic.twitter.com/nUB7qGstpc

— Casimiro Escobedo (@CasimiroEscobed) June 10, 2014
Copy - Although the Nissan ZEOD project for the Garage 56 entry was - reportedly - mechanically much different from the IndyCar downvote DeltaWing entry in 2012, the similarities of the two concepts are overwhelming, morover, physically impossible not to recognize, regardelss what Nissan states (Nissan also backed the DeltaWing project and supplied the engine for the car, but they came in on the final phase). Don Panoz is close to a lawsuit against the Japanese manufacturer. (See also: "Zero")
Following this story about #DeltaWing and its assertion that @Nissan stole its IP with ZEOD race car #LeMans http://t.co/PmQfrsOZ1t

— Larry D Woodard (@grahamstan) June 16, 2014
Curve - The Porsche Curve proved to be a real car-breaker this year, fitted with Loic Duval monstrous accident during a practice. (See also: "Demolition") It is rumoured that the whole section receives a major revamp in following years, possibly returning to a "Maison Blanche"-like configuration.
This was the Loic Duval accident scene. Note debris fence damage at left. pic.twitter.com/IJqj215tUf

— Adam Cooper (@adamcooperF1) June 11, 2014
Disintegration - One freak series of incidents was the calvary of a GT Porsche, first losing a door during pitstop, then a wheel coming out of the pits. One just cannot be so collected.
Downpour - "It always rains at Le Mans" claims Jason Statham in his very first piece of narration to Audi's "Truth in 24" documentary on their efforts. Sure thing, this year's race got its fair share of water from above. What had first been reported being "light rain" on certain sections of the track proved to be torrential, but brief downpour in the first few hours of the race, engaging crashes and the safety car. (See also: "Red")
We've faced some really bad conditions here at Le Mans - rain so heavy the wipers couldn't cope. Lots of... http://t.co/UOUwINAA7g

— Ben Collins / Stig (@BenCollinsStig) June 14, 2014
Grit - Mark Webber's return to sportscar racing created an even bigger buzz than Porsche's - on behalf of general audiences. He was engaged for his final stint in a frenzy, as his 919 suffered a slow puncture and had to be brought in while chasing the #2 Audi for the lead. Ironically, he brought his "curse" with him from F1 and broke down in the final hours of the race. No Sebastian Vettel or Christian Horner was spotted during the event.
'@AussieGrit on Radio LM: "I'm already a lot better Le Mans driver than I was 24 hours ago..."

— Adam Cooper (@adamcooperF1) June 15, 2014
Laser - One of Audi's most road car-relevant technologies they deployed was the laser high-beam headlights they integrated in the vehicles. The system reportedly enables over 800 metres of visibility at night, doubling their previous efforts.
Audi's laser light technology is simply amazing. pic.twitter.com/yyADa0vTLO

— Mark (@Mark_Whitelegge) June 10, 2014
Legality - The legality of the Toyota car was - once again - questioned after introducing a "brake migration" system that automatically sets brake bias between the two axles, which turned out to be an expoitation of a loophole in the regulations and the cars were - thus - rendered to be legal.
Loom - The failure of the electric loom in the last remaining Toyota car lead to the ultimate defeat of the marquee in the small hours of the race. Built in France.
Meter - The fuel-flow monitoring system got a bad rep in F1, but was not something endurance racing was unfamiliar with, as some sort of regulations in overall fuel consumption has existed continuosly, virtually since the beginning, but most notably with the Group C era. Cars in LMP1 were reported to be running on 30% less fuel than in previous years - thanks to the hybrid systems.
Miss - Tom Kristensen - aka Mr. Le Mans - missed out on winning his 10th overall Le Mans win as a late-race repair deprived his car staying in P1. (See also: "Turbo") The #1 Audi team didn't give up and got the car to P2.
Turbo change on an Audi R18 seems quite a handful pic.twitter.com/dpcTMrCbmd

— Craig Scarborough (@ScarbsF1) June 15, 2014
Mullet - Jordan Taylor. That is all. Also, TUSCC = endurance stock car racing. I'll leave you with that thought.
After racing for 24 Hours at Le Mans, I officially have an extremely knotted mullet. #MulletProblems

— Jordan Taylor (@jordan10taylor) June 15, 2014
Nephew - This race has been the "coming of age" moment of Bruno Senna as his career is concerned. His last name would render him a single-seater racer in the public's eye, but he proved - once and for all - to be a very much able and stellar GT driver as he was engaged in close combat for the lead in his Aston Martin with Gianmaria Bruni in his Ferrari lap after lap, switching positions. In fact, it was such a memorable piece of competition that in the future some might believe "Bruni" being the first name of Senna.
Hellyeah! #LM24 #24LM pic.twitter.com/rJrMv69pT4

— Gabor Vajda (@Gabor_V) June 15, 2014
Prank - Endurance racing means much camera time and tiredness, which makes a great opportunity for mechanics to pull pranks on their team mates live on TV.
Haha! #LM24 #24LM pic.twitter.com/q4M57JVCaV

— Gabor Vajda (@Gabor_V) June 14, 2014
Rebel - The Rebellion team went ultra-conservative with their LMP1 car by not using a hybrid system and they played that game better than anyone else. One of their cars crashed out, but the Prost/Heidfeld/Beche commanded car still came in 4th overall. They managed to exploit the new rules enabling non-hybrid cars entering the WEC in a separate category, thus being the only contenders in their class. Most of the time thy were running one third up the P2 field, which brings the validity of the LMP1-L class in question.
Lola #13 is leaving @24hoursoflemans circuit to retire as a fulltime showcar. pic.twitter.com/boO8M19RxD

— Rebellion Racing (@RebellionRacing) June 16, 2014
Red - I. Lower category Ferrari causing accident - During the initial downpour, a GTE Ferrari was involved in taking out one of the LMP1 Toyotas and one of the Audis. Such tradition. (See: "Downpour") II. Flag - the red flag was a common sight during the weekend (See also: "Demolition")
Speculation - No race passes on without speculations, here's a bunch. Tom Kristensen's last ever Le Mans. True or false? Ferrari Le Mans entry as was hinted by Luca di Montezemolo earlier and Fernando Alonso waving the flag for the start of the race and driving a vintage Ferrari sportscar around the track. True or false? Ford returning to Le Mans, as it would be a fitting tribute to the GT40 at its anniversary. True or false? etc.
Teen - 16-year-old Matt McMurry is now officially the youngest ever Le Mans starterand finisher.
#LM24 ART: Matt McMurry, Le Mans 2014 — @DysonRacing @ChrisDyson16 — pic.twitter.com/rY1hC1CKg3

— Doug Garrison (@garrisonstudio) June 15, 2014
Tree - The iconic stretch of trees at Tetre Rouge that caused Allan Simonsen's death last year were not cut down (it was a common practice to fix the armco barrier on them), but the armcos were moved 1.5 metres away from the line, towards the track, brining turning speeds slightly down.
Turbo - Heartstopping moment for both Audis remaining (See also: "Red") was a turbocharger change on both cars, which caused Tom Kristensen losing out on his 10th potential one (See also: "Miss"), but still enabled the #2 taking the victory home.
Zero - The number of hours the car with said number in the name managed to finish. 24 Minutes of Le Mans. Has to be noted, it wasn't the powertrain that caused the failure but Le Mans's great enemy - gearbox-wear. Also, the car managed to run a full lap purely on electric power, a historical first.
Achieved yesterday the first ever full electric lap of Le Mans 24h track, with the Nissan Zeod RC, the only... http://t.co/rYjqzt7CDW

— Wolfgang Reip (@WolfgangReip) June 15, 2014